Welcome to Our Family Web Site!
Glad you could stop by. Hope you will come back and write us to let us know what you might be interested in or would like to collaborate on. This site will likely always be under construction so stop back and visit anytime. Feel free to sign in below and let us know you were by. Thanks!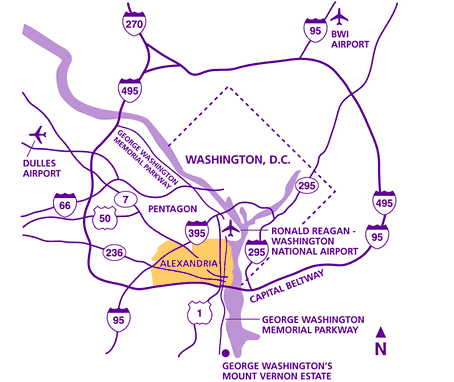 We live just south of Alexandria, Virginia (area in gold on map), just south of the capital beltway.
We live in a community called Guilford and on a nice piece of property!
Who are we?
Rich is in the computer field and currently works for Booz Allen Hamilton as an Associate of the firm. He currently is an on-site contractor supporting the US HQ Army Materiel Command (AMC). He manages a team of eight other Booz Allen employees who support the Chief Information Officer (CIO). That's business, but I grew up in West Carrollton, Ohio (a Dayton suburb)went to college at Ohio University and later Wright State University and then moved to northern New Jersey before settling here.
Rhonda is the Program Administrator of the Employee Assistance Program (EAP) for an Agency in the federal government. Her efforts are in managing educational and wellness programs, counseling support and much more for the workforce of one of its agencies. She manages and directs contracted staff at several locations in the country. She lived in northern New Jersey much of her life.
Tibelea is our 10 year-old lhasa aphso. She is the love of the family and our joy.

That's about it for who we are. Come in and tell us who you are.
Sign Our Guestbook
View Our Guestbook
Anti-Spam
This page was last updated on 05/03/2003.
This site was designed using...